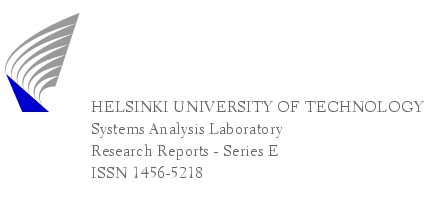 Reports:
Listed by date
Listed by first author

Electronic working paper series for research and educational manuscripts of the Systems Analysis Laboratory.

Homepage:
www.e-reports.sal.hut.fi

Editor:
Professor Raimo P. Hämäläinen [homepage] [email]

Publisher:
Systems Analysis Laboratory
Helsinki University of Technology
P.O. Box 1100
FIN-02015 HUT, FINLAND

Tel. +358-9-451 3056
Fax. +358-9-451 3096
E-mail: systems.analysis@hut.fi
Web: www.sal.hut.fi

Document formats:
The abstracts are readable by your browser. The complete reports are available as pdf-files. For some reports also Powerpoint-presentations are available (as pdf-files).

Printing:
Reports can be printed free for personal use only. Paper copies can be requested from systems.analysis@hut.fi.

Plug-Ins:
To view the pdf-files make sure that you have the Adobe Acrobat Reader software installed. You can get it for free from Adobe.

Other:
Also have a look at other downloadable manuscripts and publications of the Systems Analysis Laboratory.